Salahwarin Jaijuntuck
Born 6 February 1973, Chiang Mai, Thailand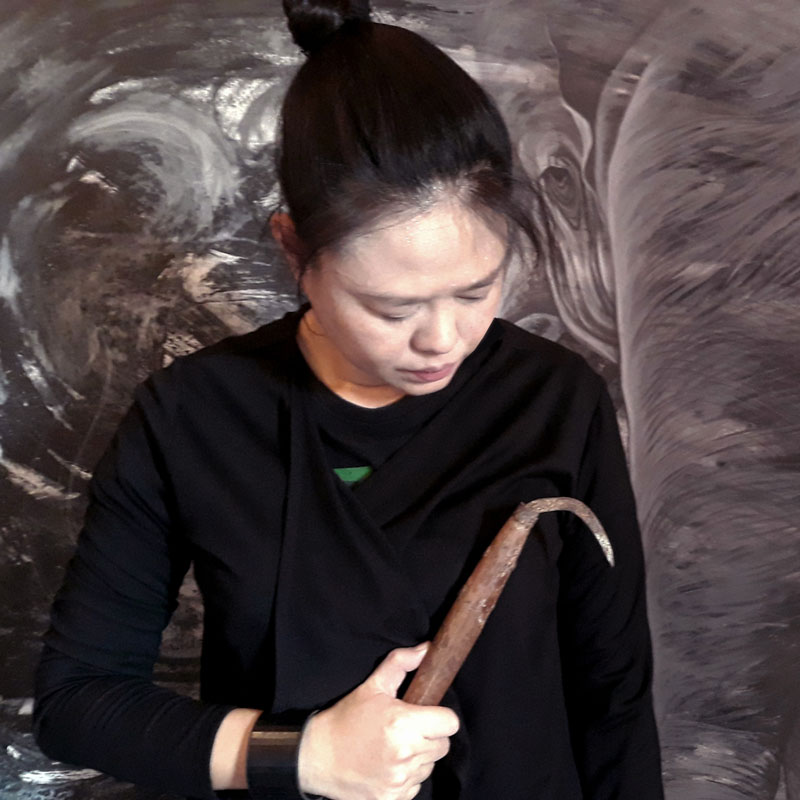 Salahwarin Jaijuntuck
Born 6 February 1973, Chiang Mai, Thailand
Artwork: Life Right  • Who owns this right and how much?
สล่าวารินท์ ใจจรรย์ทึก ศิลปินหญิงพื้นบ้านล้านนาที่สร้างงานศิลปะมาเป็นเวลา 15 ปี ผลงานของเธอเปลี่ยนแปลงไปตามการเดินทางของชีวิตสู่งานศิลปะร่วมสมัยแนวทางแฟนตาซีในปัจจุบัน ผลงานชุดนี้เป็นการตั้งคำถามของในการใช้สิทธิของมนุษย์ที่กระทำต่อสิทธิของสัตว์ซึ่งทั้งสองฝั่งชีวิตมีลมหายใจและสิทธิเหมือนกัน
Salahwarin Jaijuntuck is a Lanna artist whose art reflects the journey of her life as it unfolds over time. Over 15 years of persuing artistic brilliance, Salahwarin's current style is of contemporary fantasy. The art in this series is about questioning the use of human rights on animals that have their own rights as well.
Education
Bachelor's degree, Field of Industrial Product Development and Design Technology, Rajamangala Institute of  Technology
NIMBY
Life Right

Elephant rights in today society is hard to protect. Her inspiration in protect elephants is in her artworks.
 แนวคิด
" สิทธิ ชีวิต "
สิทธินั้นเป็นของใคร?  สิทธิมันมากแค่ไหน?
ช้างเป็นสัตว์ที่เป็นสัญลักษณ์ของชาติ แต่ถูกกระทำอย่างไม่ยุติธรรม การปกป้องสิทธิของช้างคือแรงบันดาลใจของศิลปินหญิงคนนี้
Solo Exhibition
2007 /April   "Mahakanasil"  as the aesthetics imagination from faith power of  Ganesh At  Chamchuree Art Gallery  Bangkok
2010 /September " Jitra Kana Prati " Imagination of  Ganesh  in Painting and  Sculpture At  KRUNG THAI  Art Gallery  Bangkok
2011 /Februry "Tipanesh Thep Pakaranum "Imagination from the dissertation to the Ganesh  Art  At  Chamchuree Art Gallery Bangkok
2016 / September "Kodchanart Naruethat"Artistic beauty from imagination of elements faith from Ganesh Art  At  Ratchadamnoen Contemporary Art  Museum Bangkok
Major Art Exhibition
2008 /March  :   "Ganesh Art " at  Taniya  Plaza  Bangkok
2008/ May     :   "Ganesh in  being strange" at  JJ PLAZA Bangkok
2011/October :   "Ganeshanysatresil" at  India Imporium  Bangkok
2012/January :   "Ganeshsiljintanakarn" at  Rivercity  Bangkok
Select Art Exhibition
2004 : Exhibition "The Art of Trunk" at the hotel "IMPERIAL MAE PING", Chiang Mai
2004 : Exhibition 11th and 12th of "The Art of Clay" at The Cultural Center of Thailand
2004 : Exhibition 3rd, 4th and 5th of "THAM HEAT TOY HOY SALAH MUANG"  at The Auditorium of Art and Culture Exhibition, Faculty of fine Arts, Chiang Mai University
2005 : Exhibition "Continuation of Art Northern Part" at the hotel "THE SIAM HERITAGE", Surawong Road, Bangkok
2005 : Exhibition "The Color of 72Years of Queen" at the hotel "RIVER CITY", Bangkok
2005 : Exhibition "The Continuation of Northern Part Art" at the temple "SRISUPHAN", Chiang Mai
2006 : Exhibition "Joining the heart for conserving Thai" at the hotel "RIVER CITY", Bangkok
2006 : Exhibition "Glorifying 72years of Queen" at the hotel "MONTIEN", Surawong Road, Bangkok
2006 : Exhibition "MIND 2006" in the opportunity of complete enthronement 60years at IMPACT MUANGTHONG THANI
2007 : Exhibition "@SPACE for the Art Market" of the contemporary culture and art office, Ministry of Culture at the department store "SEACON SQUARE"
2008 : 50Artists having the works being excellent in the project "Art Market", the contemporary culture and art office, Ministry of Culture for exhibiting the works at the art galleries of Her Majesty the Queen
2008 :Exhibition "Thai Artist and Art to the handicapped" at the department store "THANIYA PLAZA", Silom
2008 : Glorifying Art Festival in the opportunity of complete enthronement 60years at SEACON SQUARE
2009 : Exhibition "Art and Impression to His Majesty the King" at the national conference center "SIRIKHIT"
2009 : Exhibition "Hello stranger" at the hotel "Best Western SWANA", Bangkok
2009 : Exhibition "Art Nature" at Silom Galleries
2010 : Exhibition "80artists have admired the King" at the hotel "THE GRAND AYUTTHAYA", Bangkok
2010 : Exhibition "80years: all people have been happy" at Chiang Mai
2010 : Exhibition "Painting to being the flower for giving to mother" at the agricultural knowledge center, library office, KASETSART UNIVERSITY
2011 : Exhibition "Art Market Fair" at OCAC Art Gallery, Bangkok
2012 : Exhibition of art works admiring 80years of His Majesty the King "96independent artists have admired the King" at the hotel "IMPERIAL QUEENS PARK", Bangkok
2013 :Exhibition "Art for the King and Admiring 80years of His Majesty the King" at the community hall, Loei
2014: Exhibition "Gold Tree for admiring 80years of His Majesty the King" at the botanical garden of Her Majesty the Queen, Chiang Mai ,Thailand
2016 : Asean Women Spiritual Appearance Art Exhibition at Shenzhen International Exhibition Center, Chaina
2017 : "MIND" Art Exhibition at Siam at Siam Design Hotel Bangkok Thailand
2018 : "also" Art Exhibition at Yuyuan Art Gallery @LOHUNG1919
2018 : "I SEE" Art Exhibition at  Grand Centara Hotel Centralworld Bangkok Thailand
2018 : "Open Your Eyes Open Your Mind" at  Ar Nake Pasong ,Changchui ,Bangkok
2019 : "TIME" Fine Art Exhibition at 333 Gallery ,River City Bangkok Thailand
2019 : The 12Th  Art Exhibition of international Visual Artists Association of Thailand
2019 : "Tian Tian Xiang Shang" Exhibition at Bangkok Art and Culture centre (BACC)
2019 : "MAKING MERIT OR CREATING HURT " at Baramee Dhamma Hall, The Envionment  for Mindfulness & Creativity ,Chachoengsao,Thailand
2019 : "The Relation" the integration of 12 major artists at Joyman Gallery Bkk Thailand