Supamas Taveechotipart
Thailand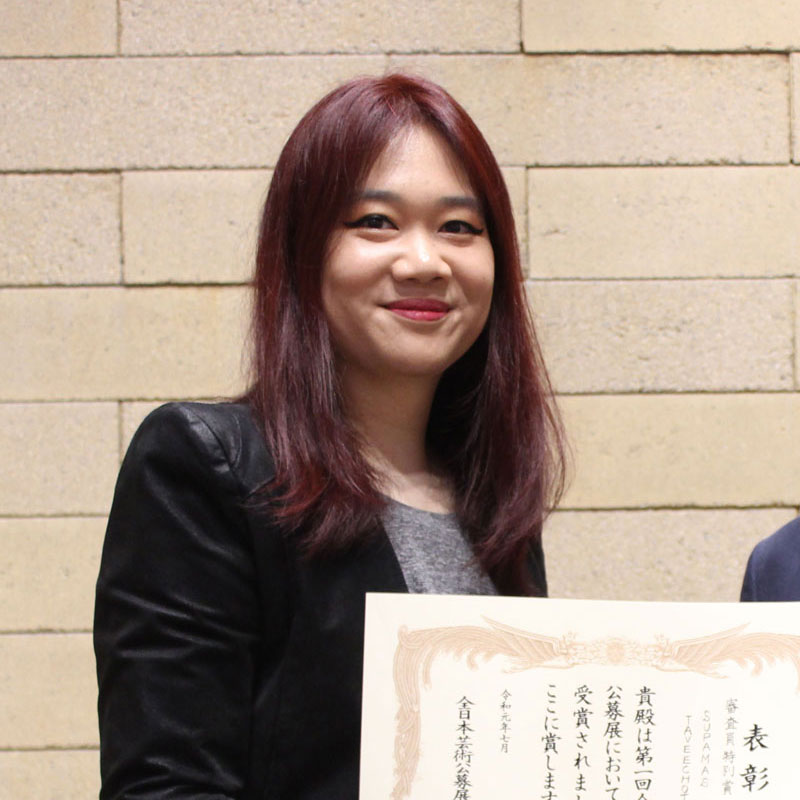 Supamas Taveechotipart
Thailand
surrealism and fantasy base artist
In the early years, I got inspiration from Disney cartoons because when I was very young, I used to read and watch them everyday. When I started my undergraduate study, I tried to mix cartoons, fantasy and a bit of Surrealism art.
Education 
– Bachelor of Faculty of fine and applied art( 2ndClass honor), Chulalongkorn University
– master degree at Faculty of Architecture  , King Mongkut's  Institute of Technology Ladkrabang (outstanding)
NIMBY
Madam Plastic
I got the inspiration from the song named "Fake Plastic Trees"song by Radiohead because I like the meaning of the lyrics. My favorite part of this song is :
"A green plastic watering can
For a fake Chinese rubber plant
In the fake plastic earth
That she bought from a rubber man
In a town full of rubber plans
To get rid of itself
It wears her out"
In today's world, people overlook the inner truth and only care to know others only on the surface.
We evaluate things as what we see on our eyes, not behind the masks where the underlying truth sits.
Solo Exhibition
2013 – Solo Art Exhibition "Reflection ", Chamchuri Gallery, Bangkok
2014 – Solo Art Exhibition "Princess of Evil", Number1 Gallery, Bangkok
2016 – Solo Art Exhibition  "Enchanted Dream"  People's Gallery,BACC, Bangkok
2017 – Solo Art Exhibition  "Beauty"  Chamchuri Gallery, Bangkok
Group Exhibition
2010 – Art Exhibition "Spring in White", joined with Italian Artists, Bangkok
2011 – Art Exhibition "fire work ", Bangkok Art and Culture Centre
2011 – Art Exhibition "fire work ", Bangkok Art and Culture Centre ,
2013 – Art Exhibition "Map ", Chamchuri Gallery, Bangkok
2013 – Art Exhibition "Art Camp ", Nationalmuseums, Bangkok
2014 – Art Exhibition "MAD Exhibition" , Bangkok
2015 – Art Exhibition "Thailand: Spiritual & Material" , Luciano Benetton Collection, India
2016 – Art Exhibition "GIVING HOPE" ,ion art gallery, Singapore
2016 – Art Exhibition "Project Our Beloved King ", Jam Factory, Bangkok
2016 – Art Exhibition "Project Our Beloved King ", IMPACT Muang Thong Thani , Bangkok
2016 – Art Exhibition "in color me bear ", Sathorn 11 art, Bangkok
2017 – Art Exhibition "For those who believe,no proof in necessary" ,Wei-Ling art gallery, Singapore
2018 – Art Exhibition "Also" ,Lhong 1919 art gallery, Bangkok
2018 – Art Exhibition "I SEE " ,Centara art gallery, Bangkok
2018 – Art Exhibition "Asia Contemporary art Show " ,NI-DO gallery, Hongkong
2019 – Art Exhibition "Fair Well" ,Numthong gallery, Bangkok
2019 – Art Exhibition "The First all Japan Art Open Competition 2019"
2020 – Art Exhibition "NIMBY" Palette Artspace, Bangkok