Supmanee Chaisansuk
Born 1980, Bangkok, Thailand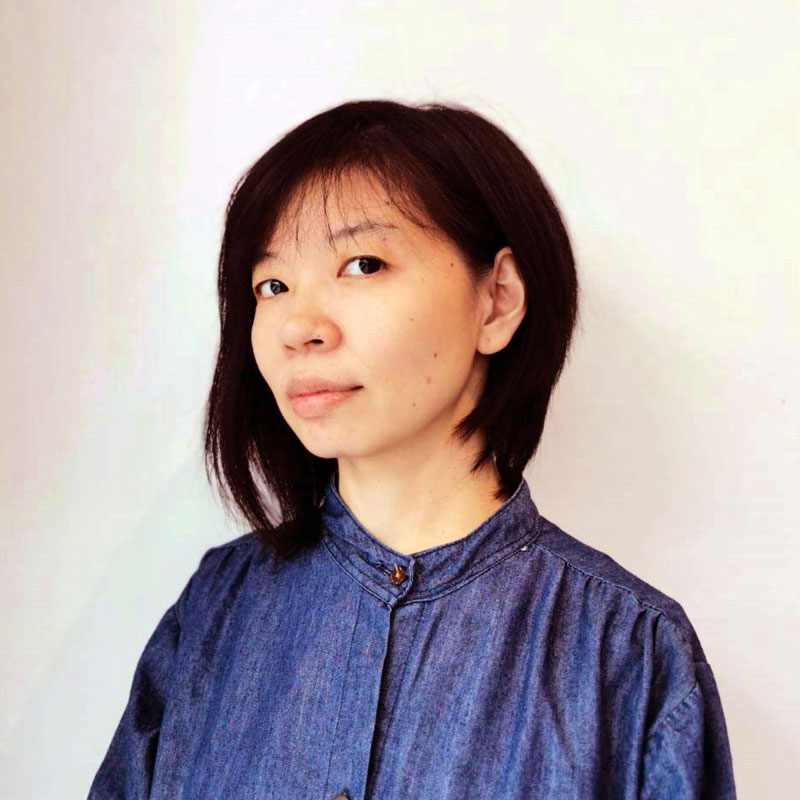 Supmanee Chaisansuk
Born 1980, Bangkok, Thailand
Artwork: Take Care Of Yourself
Ever since Supmanee earned a Master of Architecture from Thammasat University, she has been interested in air quality.
"People around the world have been concerned about air quality for a decade, but Thai people only became aware of air quality a few years ago due to the PM2.5 problem. I have been interested in air quality for years because I carried out research about healthy home environments and discovered that air quality was one of the most important factors. While we can control the air quality inside our homes by choosing the right materials and air conditioning systems, we can't control the air outside," said Supmanee.
Education
Thammasat University, B.S.(Architecture),2003
Thammasat University, M.Arch. (mainly in Architectural Technology & Environmental Design),2005
NIMBY
Take care yourself
อากาศที่ปะปนด้วยฝุ่นจิ๋ว กำลังเป็นที่หวาดกลัวของผู้คน ซึ่งเป็นผลจากกิจกรรมของมนุษย์ทั้งการเผาไหม้ อุตสาหกรรม การเกษตร การก่อสร้างฯลฯ  แม้ว่าจะมีความพยายามแก้ปัญหาออกมาตรการป้องกันต่างๆโดยหน่วยงานที่เกี่ยวข้อง แต่เป็นไปอย่างผิวเผินไม่ได้ผลที่ยั่งยืน การลดปริมาณฝุ่นจากแหล่งกำเนิดและการปลูกต้นไม้เยียวยาจึงเป็นยังไม่เห็นผลเป็นรูปธรรม คนชนชั้นกลางและล่างอย่างเรา จึงได้แต่ช่วยเหลือดูแลตัวเองไปก่อน แย่งกันซื้อหน้ากากและเครื่องฟอกอากาศมาใช้ ในขณะที่บางคนไม่มี สุขภาพและชีวิตถูกกัดกินไปเรื่อยๆ จนวันที่เราจากไป….. "ทำไงได้ ก็ได้แต่ดูแลตัวเอง"
PM2.5 becomes a serious problem. Our actions such as Industrial polluted, burning crop in agriculture , dust from big construction project etc. are the course. Although, some responsible organization try to solve the problems by set up some policy. But they were just "lock the stable door after the horse is stolen" not in a sustainable way. So how they say we must reduce dust from the source  and we must plant more tree are all just words never an actions. People in the middle class and lower class have to buy their own protection. Who cannot afford protection of their own health will slowly die….Please take care yourself!!
Solo Exhibition
2018 Blackcat Gallery " Rhythm of Nature, Melbourne, Australia
2018 Many cuts Art Space " Pollen", Chachoengsao, Thailand
2018 10ml.Cafe Gallery " Together", Bangkok,Thailand
2018 La Lanta Fine Art " Enchanting", Bangkok,Thailand
2017 Jamjuree Art Gallery "Supmanee's Art in Nature", Bangkok, Thailand
2016 Cassia Art Gallery " A Little More", Bangkok, Thailand
2015 The Meeting room Art Gallery "My Nest" Chiangmai,Thailand
2014 Dialogue Café and Art Gallery "Dwelling in my mind", Bangkok, Thailand
2013 Cassia Art Gallery " Colours in bloom ,Bangkok, Thailand
2012 Cassia Art Gallery " Small Eyes – Big Views", Bangkok,Thailand
Group Exhibition
2020 Palette Art Space " Nimby", Bangkok, Thailand
2019 Sathorn 11 Art Space " Lovely Blossoms", Bangkok, Thailand
2019 Joyman Gallery " Rhythm of Life and Nature" Bangkok, Thailand
2016 IWS-Thailand ,"IWS-Thailand Festival 2016" Huahin , Chonburi
2015 International branch of 2015 World Watercolor Triennale", Seoul , South Korea
2014 Pennsylvania Watercolor Society," the Pennsylvania Watercolor Society's 35th International Juried Exhibition", Pennsylvania State Museum, USA
2014 Rivercity shopping mall , IWS-Thailand ,"IWS-Thailand Festival 2014" Bangkok,
2014 Global Network of Watercolor Painters (GNWP) 3rd Exhibition, Shanghai, China
2012 Global Network of Watercolor Painters (GNWP) 2nd Exhibition , Hamamatsu, Shizuoka, Japan
2012 K-Village ,Club Napralarn" Thailandscape Exhibition", Bangkok, Thailand
2011 Cassia Art Gallery , Bangkok Skethers "A SECRET GARDEN", Bangkok, Thailand